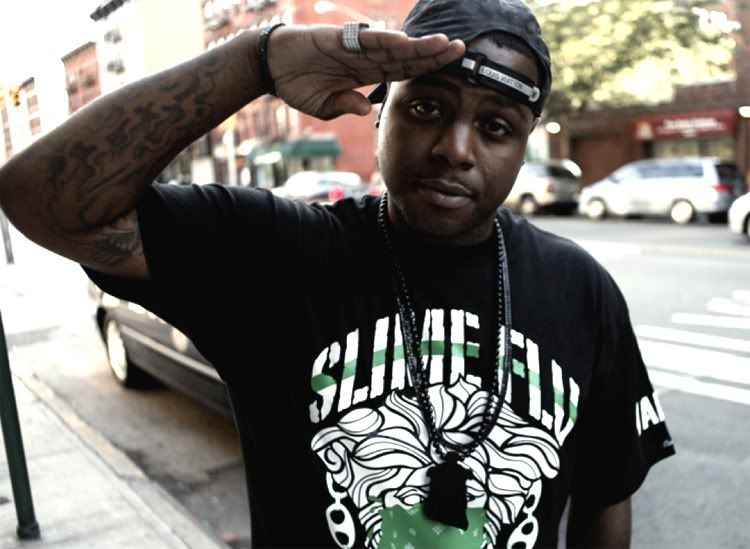 J
AE MILLZ took the time from his busy I AM MUSIC 2 tour schedule to sit down at the Cool Table.
Millz kicks it with me about the good ole battling days, Carter 4, weed of course , and more…………….
First thing, and i know you probably had enough of the battle
questions, but that battle with murda mook was epic, but i was always
curious to know what was your dopest battle that people don't know
about.
I had a few dope battles.. I cant even lie. too many to narrow down to 1… but i had a 3 hour battle with Shells in Times Square when we was younger in our teens, that was dope. i remember battling the group Larsiny all at one time in Ruff Ryders Powerhouse studio in Yonkers back when Cassidy, Shiz & Akbar was fresh from philly… & that was bars on top of bars. i had battles with Loaded lux, T-Rex, 40 cal, JR Writer & Almost every other rapper in harlem from my era that was getting it in.. i tell everybody tho, when i was young Head Ice smacked me around for about 4 rounds.. lol. He was older than me & i was only a teenager at that time, But after that i made a promise to myself that i would never be on the embarrassment side of a battle again.. (laughs).. Me & Goodz had a classic battle too, word. Shout out to all of them.
The I Am Music 2 tour just kicked off so i know u on the road
prospering, whats the craziest story you can share with us from the
first I Am Music tour
All i remember from the first "I Am Music Tour" was everybody in YM just being hyped to be on a tour & be able to perform in front of that many people… We wasn't even all performing every night, we had to take turns depending on what region we was in.. nobody was stars yet, nobody had albums out.. not even Young Money as a group.. we weren't even a group yet. i still have footage & pictures of Me, Nicki, Gudda, Mack, Drake, Streets, Shanell.. everybody.. Twist & chuckee was like infants then, lol. just the memories & the experience is a story within itself.
You know what's ill? You were the first nigga that to go crazy on
lol. You launched her career, you deserve some credit. You ever think
to yaself "Damn, this chick really got famous" ?
lmao.. Yea sometimes when it comes up in a convo or u hear about her other adventures with god knows who, i just laugh like… maaaan, this girl got all this attention just by me being stupid sending a reckless text message shitting on her, lol
It's no secret you a heavy weed smoker, you supporting this new
white paper movement? I tried it, i can't fuck with it.
real talk, i been smoking for a looooooooong time…. like… im talking before some of these new niggas started rapping type long time… so i know all about the Dutch Masters, Phillies Blunts, White Owls, Garcia Vega's, Swisher Sweets, The Zags, all that… but im a New York City nigga.. a Harlem nigga.. and i came up in the art of Dutch Rolling era, lol. i don't have nothing against white papers tho.. but they just burn too fast, simple as that.. i feel like im wasting my weed.. lol.. and don't give me that "it get you higher" shit, cuz if u smoking some reggie bush in some white paper, yo ass still gone have that same dirt high.
Sour or Kush?
Kush all day.. Sour only benefits the person who's selling it…. (*Think about it)… Don't try to sell me no skimpy ass zip, tryna gaffle me talking bout' "Nah my G.. dis dat sour tho"… what????? BALEEEDAT… Ok, well how about u go get me some Piff & i save myself some money and get a healthier zip, lol.
I see you be going in on niggas (pause) on twitter. I only got 5k
followers and its always niggas that wanna try to get under my skin
and i can't front the shit be working sometimes. I can only imagine
the struggle ya mentions be going thru. I know you just brush most of
it off, but don't front, that shit be having you tight sometimes
right?
Dont get it twisted one bit, before i'm a artist.. i'm a man. So of course sometimes u wanna keep it professional & just brush stupid shit people tweet u off like a G.. but sometimes, the asshole in me just wont allow me to & i just go off, lol.. only for a few minutes tho, its all in good fun & entertaiment…. Sometimes.
Aren't you the originator of "Leggooo"? Everybody saying it now, but
when i seen trey songz say it on that camera commercial I was like
damn, nigga took all the craft out of it after that
Yeaaa the "LEGGGOOO" situation is funny… it just puzzles me that niggas could act like 3 years ago they was going on stage screaming LEGGGOOO, or like they was shouting it all over they tracks & before they're verses, smh.. but then i think back to how everybody started shouting "Holla" after Jay-Z said it a few times, smh.. Whats even funnier is the same niggas who scream it all day done came to a wayne concert once or twice & heard me scream that shit repeatedly.. its cool tho. Imitation is the best form of flattery.
I seen online that Carter 4 is done, so i know you heard at least
some of it….Give us just a lil inside info.
The Carter 4 might be the hardest album Wayne recorded since the Carter 2.. and i'm a lyricist, so u know what i'm listening for when i hear a nigga shit.. Feel me??? Not saying that the Carter 3 wasn't lyrical, because it was.. but it was also more mainstream & had singles like "lollipop", "Got Money", "Mrs. Officer" & "Comfortable" that let you know his mind was on that multi platinum plaque.. On the Carter 4 you're getting one of the biggest artist in the game right now fresh out of a cell.. this is like when pac came out and was about to drop "All Eyez On Me"… Can u imagine the shit he's saying after being away for damn near a year for the first time in his life???
What you working on? What can we expect from Millz in the future?
I just released 2 mixtapes on the same day.. One is for my smokers titled "POTENT MUSIC"… and the other mixtape is for my ladies titled "HE'S EVEN NASTIER" (The Virgo Mixtape 3). They both available on my website www.ForeverMillz.com right now and damn near every other mixtape / music site, lol… but other than that its all about this album "NOTHING IS PROMISED"… i'm currently on the "I Am Still Music Tour" with Lil Wayne, Nicki Minaj, Travis Barker & Rick Ross.. but the homie Birdman got a studio bus on tour as well as his personal bus & Wayne has the same as well. So even tho we on tour, the work don't stop… therefore, the money wont either.